8th Grade Promotions Ceremony - Last day of School Thursday 5/26/2022 NSD Auditorium at 6 PM. Congratulations to the students and their families.

8th GRADE UPDATES (1) Mr. Deleon wants us to remind you to please make sure you review and return your course selections for high school. (2) Thursday 5/26 - 8th grade Promotions Ceremony at 6pm. Must meet NMS promotions standards in order to participate in the ceremony. Reception to follow.

Lunch Menu for May!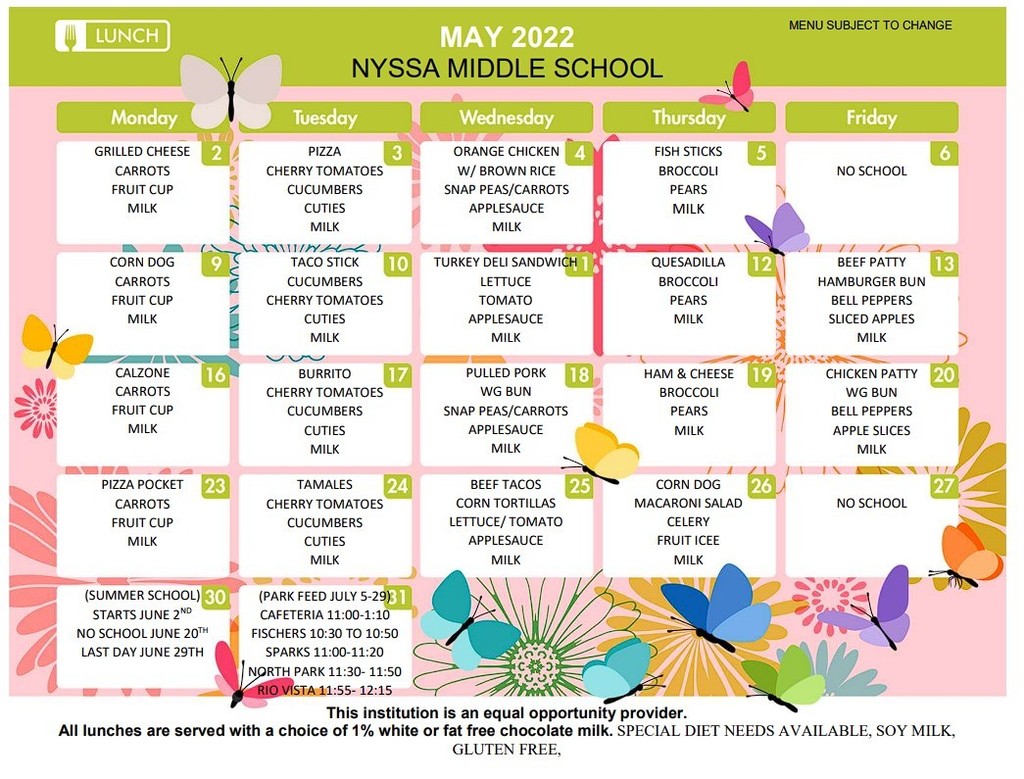 El equipo de Educación para Migrantes está haciendo la inscripción para la Escuela de Verano para Migrantes por las tardes esta semana. El equipo estará en la oficina del Distrito de 4:15 p.m. - 8 p.m., de martes a viernes. También estamos registrando al Instituto de Liderazgo Migratorio de Oregón (OMLI) para estudiantes de secundaria y preparatoria. Aquí está el enlace en línea para el registro OMLI
http://go.tvcc.cc/l/397372/2022-03-10/285ggg7

The Migrant Education team is doing Migrant Summer School registration in the evenings this week. The team will be in the District office from 4:15 p.m. - 8 p.m., Tuesday through Friday. We are also doing Oregon Migrant Leadership Institute (OMLI) registration for middle and high school students. Here is the online link for OMLI registration
http://go.tvcc.cc/l/397372/2022-03-10/285ggg7

NMS Tennis today in Ontario @ OMS. This is a change of sites from an early schedule due to a conflict with the HS tennis schedule


April NMS Lunch Menu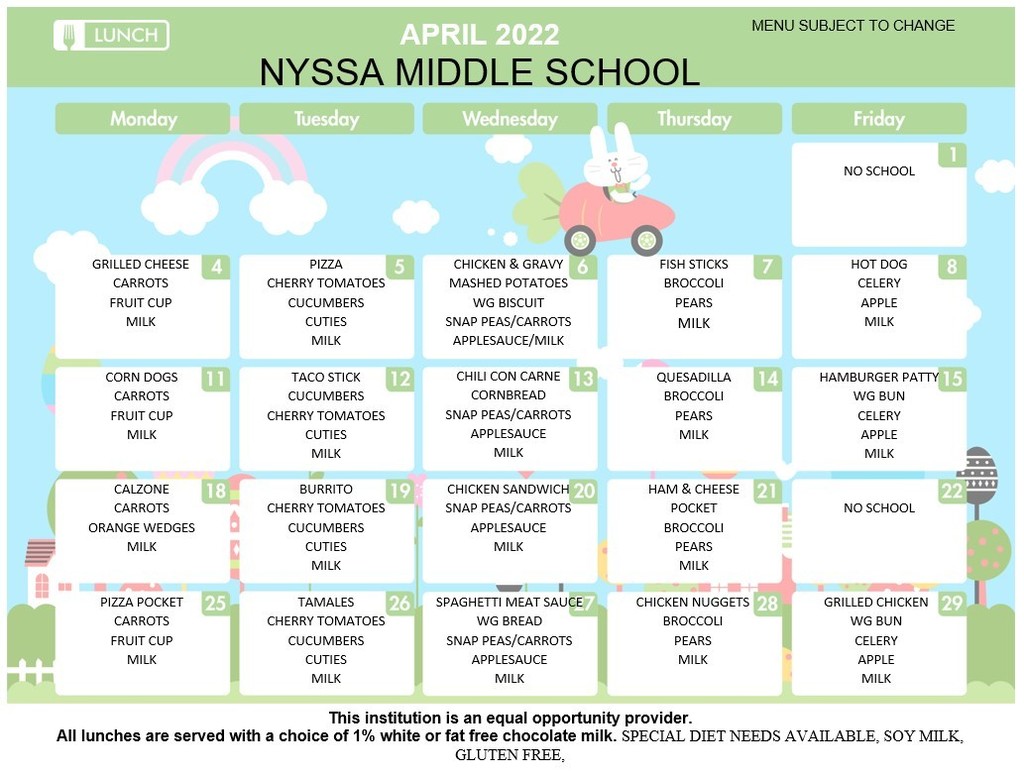 MS/HS Parent Conferences START TODAY Wednesday March 16, 5:00-8:00, Thursday March 17, 8:00-12:00, 1:00-4:00, and 5:00-8:00. Las conferencias de padres de MS/HS COMIENZAN HOY Miércoles 16 de marzo de 5:00 a 8:00 Jueves 17 de marzo de 8:00 a 12:00, de 1:00 a 4:00 y de 5:00 a 8 :00.


The current COVID Positive Case for faculty in the Nyssa School District is 0. Students 0.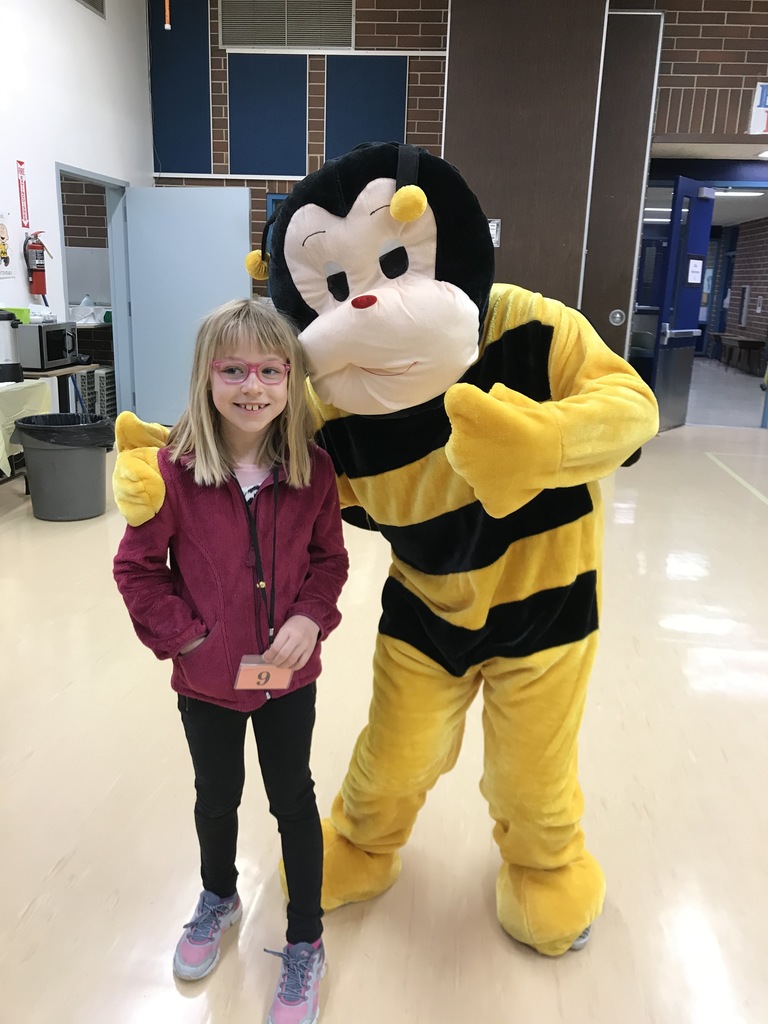 The current COVID Positive Case for faculty in the Nyssa School District is 0. Students 0.

Nyssa High School Athletics Update: Congratulations to our Varsity Girls Basketball Team and their coaches! They are league champions with an overall record of 22-2 which makes them ranked 2nd in state going into the playoffs. We are super proud of each of these girls! Their next home game will be VS Burns tomorrow Thursday, February 17, 2022 at 7:30pm. Please note this time change. This game will start at 7:30pm. Come cheer them on to victory! GO BULLDOGS!!!

Malheur County's premier academic event, the Malheur County Spelling Bee, will be held March 10, 2022 at Nyssa Elementary School. The event features spelling competitions in 1st-8th grades to determine the top spellers at each grade level, as well as to crown an overall champion who will represent Malheur County at the Scripps National Spelling Bee in Washington, D.C. Opening ceremonies begin at 8:00 a.m; and spelling competitions start at 8:30 a.m, and conclude at 12:00 p.m. The public is invited to attend the events.

2/8 TODAY NMS BBX - For Clarification: A&B teams are here in Nyssa vs Nampa Christian . C&D teams are @ Nampa Christian

The current COVID Positive Case for faculty in the Nyssa School District is 3. Students 3.

Vaccine Clinic Scheduled for Thursday, 02/10/2022 in Mac Hall on Elementary Campus from 3pm-4:30pm MCHD will be providing COVID vaccines, 1st,2nd, 3rd shots or boosters from Moderna, Pfizer, and Johnson and Johnson for individuals 5yrs old and older. Please bring your vaccine record if you have received a previous vaccine. Anyone in the community is able to attend. There is no cost for vaccinations. Malheur County Drop Day is fast approaching. February 16, 2022 is the required day for a student to have all of their required vaccinations up to date. The guidelines state that if a student passes this date without their required vaccines, they are unable to be on a school campus. This is a county requirement, not a NSD rule. THIS DOES NOT INCLUDE ANYTHING TO DO WITH COVID VACCINES. There is no cost for vaccinations. Required school vaccines vary by age, but include: DTap/Tdap Polio Varicella MMR Hep A Hep B HIB If your student is in need of a required vaccination, MCHD has agreed to provide these vaccinations at the clinic on the 10th of February. Please contact
adewitt@nyssasd.org
to sign up by February 9th at 4pm. A count is required to be provided so they know how many and what vaccinations to bring. If your student is in need of a required school vaccination, please make sure to update your student's record in their school office after they have received it. Thank you. If you have any questions, please let me know. Have a great weekend, Aundra De Witt

INCUSION WEEK February 14th-17th Purpose: Inclusion week will be celebrated to provide support to the increasingly diverse student population that we have here at the Middle School. The Week also provides an important opportunity for educators, students and parents to discuss mental health concerns as well as various other struggles that students may be faced with. Monday(14th)-Anti Bullying "You are LOVED" Valentines colors: Red and Pink Tuesday(15th)- Anxiety and depression "You are VALUED" Color: Green Wednesday(16th)- Suicide awareness "You are WANTED" Color: Yellow Thursday(17th)- Equal day "You are IMPORTANT" Color Blue Gender/Race/Disability/Sexual orientation Friday(18th)- School Improvement To help bring awareness to the topics this week you can: wear the color of the day, have a discussion at home with your family, do research on topics and find positive ways to help yourself or others and wear a smile 😊 daily! If your searching for that one person who can change your life… Look in the mirror 😊 We are looking to have 5 minutes to do a morning "announcement" sharing statistics, educational information, direction for help and additional resources. This week is not intended to be used to debate issues or out students. We would like to bring light to difficult topics in life with the hope of inclusion.